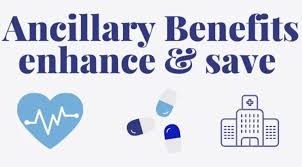 Why should I offer ancillary benefits to my employees?
Many of the groups that I work with prioritize their medical insurance offerings.  However, employees want additional benefits outside of medical, such as dental, vision, disability, or Basic Term Life.  We are even seeing a greater demand for Pet Insurance, as 67% of American households own pets.
Dental and Vision
Employees love dental and vision products. They are the second and third most requested employee benefits, respectively.   Offering dental products can help with early detection of diseases such as diabetes, high blood pressure, or oral cancer.  Vision insurance is very popular due to the fact that most major medical plans do not cover routine vision exams or glasses.  Vision plans can cover a routine eye exam, along with reimbursements for contacts, frames, or even sunglasses.
Life and Disability
As a whole, ancillary benefits are more affordable.  Group Basic Term Life along with Short- and Long-Term Disability are much more reasonably priced in a group setting compared to an individual basis.  Individual Life or Disability insurance policies require an exam and health statement with medical records for approval.  The health risk is spread out with group life and disability making the cost and level of coverage more attainable.
Including ancillary benefits as part of a competitive benefits package can help attract and retain employees. For instance, Short Term Disability is frequently requested by expectant mothers who will need to request maternity leave.  Another question that employees ask is whether their employer offers company paid life insurance in the case of an unexpected death.
Section 125
Offering ancillary coverage can also lower an employer's FICA contributions if using a Section 125 plan so that employees can use pre-tax dollars to pay for certain ancillary products, such as vision and dental.
In summary, ancillary benefits can supplement your existing group healthcare plan.  Ancillary benefits can help pay for treatments and other health related expenses that traditional healthcare insurance does not cover.
Have additional questions about ancillary benefits?
Please call me to discuss how ancillary benefits can benefit your company!
Billy M. Austin, Jr.,
Partner at Van Popering Insurance
(704) 277-6964